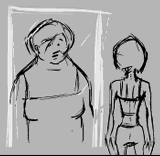 I desperately wish I could see myself accurately.
Body Dysmorphic Disorder
sucks.
Big time
. For an entire week now, I haven't been able to get it out of this crazy noggin 'o mine that I am Fat. Portly. Chubby. Overweight. Chunky. I am Gross. I Am Gaining Weight. Or Something.
Isn't that supposed to be the goal? Aren't I striving for that? This is going to be the ultimate test: can I stay in physical recovery from Ed (
that fat bastard
) even when I'm at a healthy weight? I must admit that eating whatever I want is a
huge
perk when I remain underweight. I
feel
like I'm gaining, though. The million dollar question:
am I really gaining, or do I just think I am?
I don't have a scale, but I swear that my pants feel tighter. Do I resemble a walrus more and more everyday? Because I swear I see a gargantuan, fatty walrus in the mirror.
Whoa. Enough! I think I better go get a candy bar or something to help get these nonsensical thoughts to leave my head immediately. I hate that eating disorders not only attack your body, but they harass your mind and spirit, too.
This blows. Hardcore.