So I did it. I took the plunge.
I pierced my freakin' nose.
I've been wanting to post something earlier, but I had to wait until I told my mom in person I had done it, because she reads this blog, and I didn't want her to find out via the internet. Kind of tacky, if you ask me. But she knows now - after she shrieked,
"OH NO!!"
She quickly got over it, and I'm thinking it's pretty safe to say she loves me again, which is a relief. :)
Alana and I got there around sixish, and I remember when I pulled into the parking lot I was thinking it was kind of in a ghetto place in downtown SLC. It was a run-down brick building with huge neon lights in the window saying things like
TATTOOS
and
PIERCINGS.
By this time I was so nervous, I just knew that my gag reflex was comprable to that of an infant, and I was terrified I was going to ralph all over the piercer. I was irritable too, just ask Alana. She may have gotten the brunt of it, but she was sweet about taking it like a man (er, woman) and trying to calm me down.
Once in the huge scary metal chair, Bryan (my piercer) was really awesome about talking me through everything and trying to make it seem quick and pain-free. He looked a bit sketch with a sparse beard, shaggy hair, and gauges through is ears, but he was like a teddy bear. Seriously. Here I am waiting to get pierced; I'm watching Bryan prep with terror in my eyes: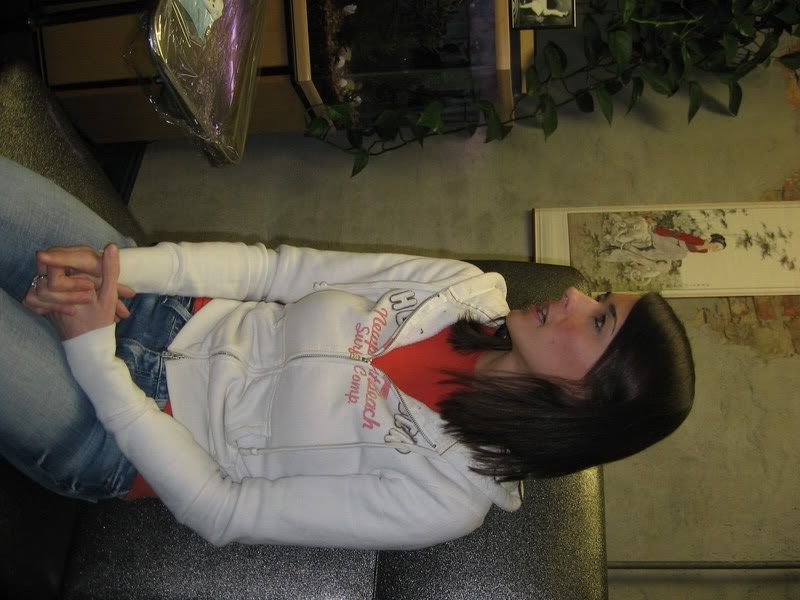 Once he had everything ready, he told me that he wanted me to close my eyes and take deep breaths, and when he felt I was relaxed and ready, would push it through. I asked him how long the whole thing would take, and he told me less than thirty seconds, and I'm thinking, "Okay, Brie. You can do this! You gave birth to a ginormous eight pound mini-man with out the help of an epidural, and that lasted hours! Come on! Don't pass out, don't pass out, don'tpassoutdon'tpassoutdon'tpassoutpleeeeeeaaaasedon'tpassout!"
And I didn't, which was good.
But I think, really, what I did was worse. He pushed the needle through, and you know how, when your body is in physical danger, you either do the fight or flight thing? Well, my body opted for flight. I swear I had no control. One minute I'm sitting there, and the next, I can feel my body going upward, and my head is just screaming, "LEAVE! DANGER DANGER DANGER!!!" The pain was incredible, folks. I consider myself to have a pretty high pain-tolerance, but this was bad. Baaaaaad. Big fat tears started rolling down my cheeks, and I really thought, for just a minute, that I was going to die. I know I sound dramatic, but wow. The last time I thought that, (aside from giving birth to the small man) was when I started breast-feeding. Unfortunately it seems to be a well kept secret that breast-feeding hurts like a motha. The first time Cade clamped on, it felt like a bear cub was gnawing on my nipples. But I digress. That really is another post for another day. So even though my head and body were begging me to leave, I somehow stuck it out. I somehow lived to tell the tale.
In this pic, you can see he's pushed it through. Do you have chills deep within your body? Because you should, looking at this picture!
In this picture, it's finally over. You can barely even see the stud in my nostril, huh? But that's good! I wanted it to be small.
Alana took the picture, and I'm thinking she wanted me to smile, but really, all I could muster up was a
"Go to hell, bitch"
kinda look. Is this seriously like the saddest thing you've ever seen?! I look so, so...well...
traumatized.

I'm so glad it's all over. It's probably not something I'll live with for the rest of my life, but Kate pretty much sealed the deal for me when debating on whether or not I should do it, because she reminded me of the motto I live by in life:
Well behaved women rarely make history.
And how am I supposed to be making some history if I don't even dare to pierce my nose?!
Oh, PS:
So Alana told Bryan while he was prepping me for the piercing that I was nervous because this seemed like a pretty shady part of town. (What? I can't help that I was born and bred on the East Side!) Bryan was telling us about how this was uber safe, and how he walked three blocks home every night at like midnight and never had any problems, blah blah blah...and really, I didn't believe him, but I didn't say anything. So two nights ago on the news, apparently there was a gang shooting in the parking lot. Yeah, some kid died. Safe? I don't think so.
But I
did
survive.
Barely.