Well Folks, I just got off the phone with
Rachel,
who is notoriously known (at least to me) for giving spectacular advice. She told me that she had just read my last few blog entries, and that I just needed to
"forget about all of it"
for a little while and blog about something funny. After all, I'm better at that anyway. So, in a desperate attempt to find any humor
at all
in my life right now, I've compiled a few nominees for something that could be humorous – at least mildly:
One: Cade loves when we sing to him. His particular favorite at the moment is when Mama or Dada hold his hands and walk around in a circle with him singing "Ring Around the Rosies." The last line,
"…ashes, ashes, we all…fall…DOWN
!" is his favorite, so now he's taken to walking around and trying to sing it, but unfortunately the
"ashes, ashes"
part comes out as
"ass, ass."
So great. My child has learned his first curse word, which wouldn't be so bad, except it also happens to be his
favorite
word, so he says it everywhere, especially in all the places that would seem the most inappropriate, like in church or in front of my in-laws. He's also learned to say "poop," which is actually really funny, because he says it in this really deep man voice, and it comes out like
"poooooop!"
I blame that one on the fact he has diarrhea more than once a day, so he often hears Mama or Daddy asking,
"Do you have a poop?"
And also thanks to his highly (im)mature uncle, who is delighted when he says semi-dirty words.
(Thank you, Bryson!)

Two: Today, I am making quite the fashion (un)statement. I'm wearing shorts with tights under them.
What?! It's funny. See picture.
PS - that's not me, just an image I found on Google, but it gives quite the accurate idea of what I look like today: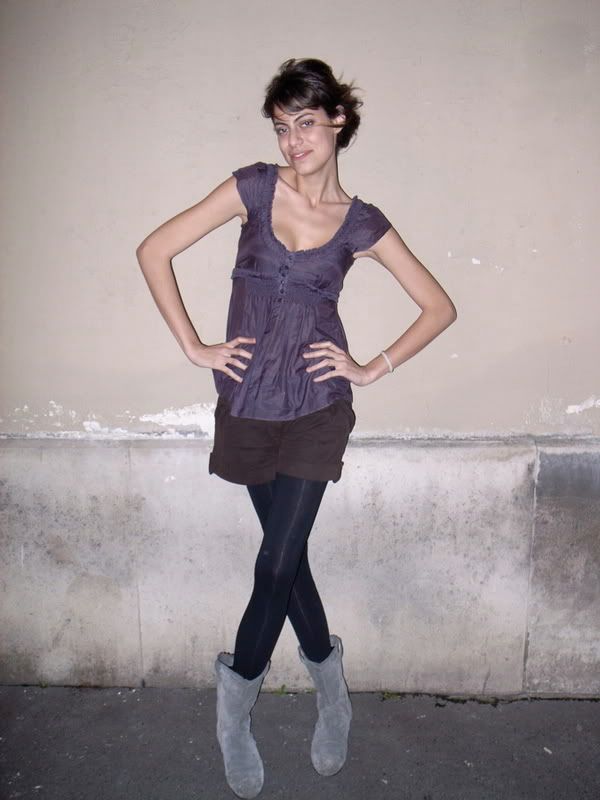 Three: My cat, Bobbi, is still a 26 pound fatty who is a furry a-hole, and that's always good for a chuckle. She also snores, which adds to the whole a-hole thing, at least in my husband's opinion, who hates that she both snores
and
sleeps on the bed.
Four: I've come up with a new joke, all by my onesies. Okay, so you know how if you decide to style your bangs, like, really high and freakish, the odds of someone coming up to you and saying, "Hey ______! The 80's called, and they want their hairstyle back!" are like, really good? Well, I was with some of my besties the other night, and when Alana lingered a little too long at the candy aisle, debating with her eating disorder over whether or not she should get something sweet and delicious, I suddenly got beautifully inspired to yell, "Hey Alana! Ed called, and he wants his disorder back!" BWAHAHAHA!!! I'm so smart. So original. So amazing.
Five: Paris Hilton has really gross knees. It looks like the skin on her right knee is workin' real hard to keep that knee-cap in. As my grandma never used to say: cover up any curious body parts if they'll cause screams of horror or hearty laughs at your expense! And that's some damn good advice. Anyway, you can read about it here, if you like, and look at some more creepy photos.
Okay, I'm feeling a little better. The migraine's still lingering, but at least I have the image of Perez Hilton's knees to keep me happy today. I hope these photos provide you with the same comfort, peace, and joy.