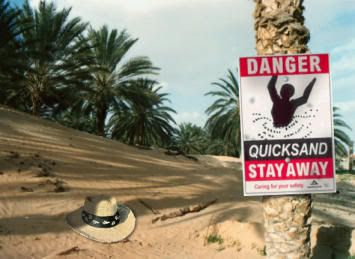 I'm immobile. I feel I'm stuck in a perpetual area of quicksand, unable to move forward or backward. This impasse I'm knotted in is beginning to get maddening. I'm making no leaps and bounds forward in recovery. I'm still terribly underweight. More than a few times every day I get down on myself and have extremely negative body image. I still cannot correctly see myself in a mirror – I do not see how thin I really am, for I still forbid myself to see anything other than the fat, the flaws, the imperfections. I
am
eating, and the foods I eat have broadened to more than just fruits and vegetables, and I allow myself fattening foods and sweets in moderation, but I can't gain weight. Like I said, no real, active steps of improvement are being made.
On the other hand, I'm not moving backward, either; which is quite relieving. I am not actively restricting or hurting myself in any way. I do not weigh myself, and I have no plans to lose weight or pull the wool over my family's eyes in order to allow myself to keep my anorexia. But I'm stuck. I've been in this I-need-to-gain-weight-but-just-can't/won't/am afraid to/it's so hard/I eat so much but just can't put weight on-place. So, I'm on hold. And it's my fault. Fear of the unknown has frozen me in place, and meanwhile; I'm very slowly sinking in the quicksand I've freely walked into.
So what do I do?
Some (usually the ignorant to my situation) say that I should go back to treatment.
Yeah, as if that would ever happen in a million years.

Many more are in favor of the NJ tube, and for those of you reading this who aren't sure what it is, (which isn't many of you) it means I'd have a tube going down my nose, through my stomach, and into my small intestines to help supplement the food and calories I can't physically eat myself to help me gain weight.
But I don't want to do this, please don't make me do this; it'd be scary and hard and embarrassing. I don't want to wear my anorexia like a badge of humiliation where everyone can see it. Please I don't think I can do it what do I do?

And very few people (well really, just me) seem to think that I'm okay just the way I am.
But sometimes I'm scared to stay this way, but I'm even more scared of changing.

Like I said, I'm stuck. And I have no idea how to summon the courage required to save myself, to
move
, to take that first step.