Shannon posted this on her blog, and for lack of any better ideas to blog about today, I decided this one was a winner:
5 THINGS I WAS DOING TEN YEARS AGO:

1. Ten years ago I was 13, and in the midst of my sad, pubescent implosion into "womanhood." (Yuck I hate that word.) So I'd say one of the things I was "doing" was being extremely depressed about the way I looked. I was a head or two taller than the girls
and boys
in the rest of my class, I rarely did my hair, and I wore big baggy sweaters all the time. My eyebrows looked like giant shrubbery on my face, for I did not yet know that tweezers had been invented. And I had braces. And no sense of style. And really, I could go on.
2. Though I've always loved reading and writing, my knack for writing began to develop then. My English teacher treated me like a little prodigy, which I loved, because in no other way, shape, or form could I ever be considered anything
remotely
like a prodigy. I always got the highest grades and scores, and it was her attention to me and her coaching and probing me to be different, and to try new things, that really helped inspire me to begin writing, and more importantly, believing that I could write.
3. Having no boobs.
4. Sleeping everyday. Thus began the loooooong years of my depression.
5. In junior high, I played basketball, volleyball, and ran cross country. I was even voted athlete of the year, which is still one of my crowning glories. If they had given me a plaque, it would indeed be hanging on my wall. Above my mantle, where everyone can see it, of course.
5 THINGS I WAS DOING FIVE YEARS AGO:

1. Five years ago…I was 18. So, I was definitely "doing" my eating disorder. Fo shizzle.
2. I was working at my brother's deli. Taking orders for turkey sandwiches and toast with grape jelly was, I found, my forte.
3. Having no boobs.
4. Having no friends.
5. Living with my aunt and uncle, which turned out to be a train wreck. Worse than a train wreck.
Exponentially worse
than a train wreck.
5 THINGS I WAS DOING ONE YEAR AGO:

1. Getting out of treatment for the third (and final, I swear) time.
2. Beginning to work for my current employer, Molina Healthcare of Utah. If you're poor and qualify for Medicaid, then we're the boom diggity. Call me.
3. Getting boobs.
4. Being a mom to the
coolest.

Kid

.

Ever
.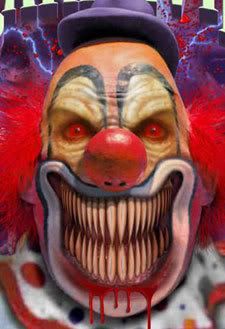 5. Beginning to recover from Ed, who is Satan in a clown costume. I've provided a picture for reference.
5 SNACKS I ENJOY:

1. Popsicles. I have a fever, and the only prescription is more popsicles!
2. Red Robin fries with their super duper secret recipe fry sauce. Which, incidentally, is Mayo, ketchup, and BBQ sauce.
3. Cereal. I love Golden Puffs, except (and this is really personal) it makes my pee smell like the cereal. I pee Golden Puffs.
4. Care Bears fruit snacks. It has to be Care Bears. They're so joyful and attractive and fruity.
5. Peanut Butter M&M's. Cade and I get in fights over them because he always hogs the bag.
5 THINGS I DID YESTERDAY:

1. I went and saw my new PCP, Dr What's His Name, who, incidentally, is the most glorious piece of manhood God has ever placed on this earth. Except my husband, of course. I sauntered into my appt with a nasty pony-tail and baggy clothes and no makeup with my glasses on, I was a tad mortified. Because, even though I'm married, we all know that no guy makes passes on girls who wear glasses.
2. Shopped for my new bike. It's a Hello Kitty retro cruiser, and it will be in my greedy little clutches very soon. My doc said that I need to exercise more because my asthma is so bad, and it'll strengthen my lungs or something, and I tried to argue with him, telling him on Saturday when I tried to take Cade on a walk, like a good mama ought to, I ended up wheezing my guts out at Fashion Place Mall, nearly passing out from lack of oxygen. Funny, I know. But he said it'll make them big and strong In the long run, so I've decided the only way I can ever enjoy exercising it to get a bike that is a) pink and b) Hello Kitty. I'll get a baby seat for the back, and Cade and I will cruise around the town all pimped out in pink and hotness.
3. Went to work and worked
so.

Hard
. I'm an asset to this company.
4. Got in a mini fight with Cade due to the aforementioned hogging of the PB M&M"s. I'm so mature.
5. Blogged, of course.
5 JOBS I'VE HAD:

1. My first job was working at a movie theater selling tickets and concessions. The assistant manager was a freaky little pervert who would drop his pens so he could watch me bend over to pick them up.
2. I worked at Hair Diamonds selling those fake hair pieces that you clipped into your pony tail. Oh how I detested this job with a passion. A fiery passion.
3. Slaving away at the deli as I've already mentioned.
4. I gave facials and makeovers at Origins. I especially despised this job because my manager once asked me if her artist boyfriend could paint me nude, then use me as a tattoo. Except, he wanted to give me elf ears. Not like the Christmas elves, like the elves of middle earth. Apparently that was a compliment.
5. Where I currently work at Molina, doing contracting work.
5 SHOWS I LIKE:

1. The Office. Michael, Dwight, Pam, Jim. These characters will be immortal.
2. America's Next Top Model. I love it. I can't help it. It's so fun to watch the contestants compete, and think, "Ooh! I've done that!" or "You couldn't pay me any amount of money to make a fool out of myself the way they are." I get so into it.
3. I just discovered this new show on A&E called Intervention. They film documentaries on people who struggle with various addictions, but the people don't know that their family is staging an intervention to get them to go into treatment. I just watched one about a girl who was spending $150 a day on Heroin and Cocaine. It was cool.
4. Project Runway. Heidi Klum's German accent is so cool, and I love it when she says "Alls Weiner sheen" to the contestants when they're kicked off. And I like the clothes and crazy gay designers.
5. Okay, let's be honest. I'm a sucker for any reality show, almost. Watching your average American make a fool of themselves on national television never ceases to be inspiring to me.
5 THINGS I'D DO WITH A MILLION DOLLARS
:
1. Pay off our student loans.
2. Get surgery on my arm to get rid of my scars.
3. Buy a house.
4. Buy happiness, of course.
5. Shop and shop some more.
THINGS I HATE DOING:

1. Changing Cade's thrice a day diarrheas.
2. Getting my hands wet or dirty.
3. Putting on lotion.
4. Obligation and/or pity sex.
5. Weighing myself.
5 BIGGEST JOYS OF MY LIFE:

1. My man-child and my man.
2. My friends. Where would I be without you crazy bi-otches?!
3. Reading and writing.
4. I'm wild for my cats. I can't help it.
5. Recovering from Ed. I'd say that gives me lots and lots 'o joy.