You might want to run for cover! It's another post about my cats...
Dev and I took these pictures actually a couple weeks ago, but I was looking at them on Facebook today and they gave me a laugh, so I thought I'd post them.
My cat Hairy is, honestly, like the furriest thing I've ever had to deal with. When she grooms herself, I feel so sorry for her because she gets so overwhelmed with her over-abundance of fur. Once, while she was grooming, I saw fur sticking out of her mouth, so I pulled it, and I gave myself chills
deep within my body
, because she started gagging and this huge glop of fur came out of her throat! I screamed. Sometimes I still think I can never be clean again.
So back to her jowls. She's got them. Only it's not loose skin or fat, it's fur. Coming out of her armpits, to be exact. So a couple weeks ago Dev and I decided she needed a trim, and she looks nice, really - I cut it in layers so she looks uber stylish. Furry jowls, begone!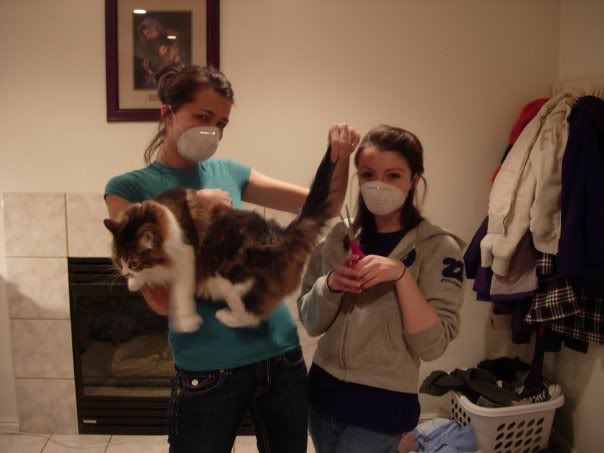 I wanted to cut more fur off, but Dev said I would compromise the very essence that is Hairy, or something, so I finally conceded in defeat when she refused to give me back the scissors. But still. All in all, I'd say it was a successful trim. If anyone needs a haircut, lemme know.
Oh, and PS: My coworker just made a comment on how
huge
Hairy looks, and I kind of got offended. She's not fat. She's just...really, really fluffy. Besides, the camera adds ten pounds. So please do not judge my sans-jowls baby girl!