There is a really nerdy, really creepy side of me that comes out of hibernation every once in awhile. I actually think it's in accordance with the cycle of the moon. I may have to look into that. But once it's out, it's out. I mean, I get all freaky and weird. Freaky and weird in what way, you ask? Okay, I'll tell you. I'm an X-Files Whore. Slut, perhaps. Whatever. I try to quell this obsession of mine, but I fear it's ingrained in my DNA just as my sausage fingers and winning personality are.
So maybe you're thinking, big deal. So she likes a television show. Who doesn't? And it may be a valid argument. But none of you know, except for two of my blog readers, Paige and Emily, who are perhaps as obsessed as I am with this series, how fanatical I am.
For example:
I can turn to a re-run playing late at night on TNT, and just by looking at Agent Scully's hairstyle, tell you what season of the nine the episode was filmed in. I can tell you every name of every episode, just by watching it in less than thirty seconds. "Oh, I know this one! It's Beyond the Sea!" Or, "I love Amor Fati and Pusher. Those are my favorite episodes of all time!"
I also have the action figures from the movie, and I treasure my X-Files Barbie dolls. I remember when I bought them, at fourteen years old. I had to save up my babysitting money, and they cost me $60. That's a lot when you make approximately $3.13 an hour. Suck. I was ripped off, wasn't I? Who settles for three bucks an hour? But I digress.
I saw the movie nine times in the theater, and would have gone more, but by that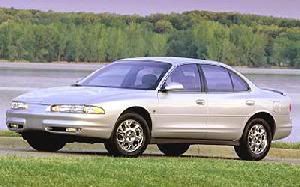 time, no one would go with me anymore. I also freaking drive the X-Files car from the movie. Yes, it's true. In the flick they drive a 1998 Oldsmobile Intrigue in silver. What do I drive, you ask? Oh.
Just that exact same car.
Exact. I even have a license plate frame that says,
THE TRUTH IS OUT THERE
. Because it is. And I desperately awaited it to be found every Sunday at 8:00 when a new episode was on. Agent Mulder (my car, not the actual character) is on his deathbed. He grunts and groans a lot when I try to drive him, but he's been a good little soldier and I will sorely miss him when he dies, which I fear is very, very soon.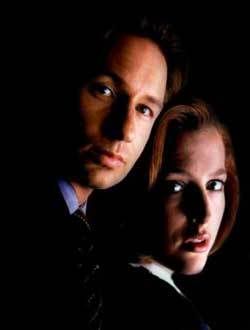 Oh how I thought David Duchovny was
HOOOOOT
. Oh how I loved Agent Scully, because she was a strong, independent, intelligent woman, and I wanted to be just like her. Except, really, I'd like to not get beat up as much as she did, or shot at, for that matter. But she was kick-ass, and was my role model growing up.
So what has spurred this blog post? Well, because of how horribly my day went yesterday, as I'm sure you all know by my previous blog, I was in the mood to spend some money. So I went to amazon.com and bought the
entire series
of The X-Files. Now, maybe this wouldn't be such a big deal, except for the fact that I
already
own the entire series on DVD. So why did I buy the boxed set collectors' edition? Because it came with action figures, man! And a movie poster. And trading cards. And some more action figures. And it comes in a really cool box. The box! It's soooooo cool. I had to have it. So I indulged.
So, does anyone want to buy some X-Files DVD's? They're used, but in great condition, I swear. No biters? Whateva. I'll go to a store today and sell them used, and make back all the money I spent. Hopefully. Gah, maybe I suck? Why am I such a freak? Who buys two X-Files series? Who?!

Maybe I should become a Trekkie next. This embarrassing fate may await me. I'll keep you posted.

PS I'll finish my From Behind Bars series soon. I'm a little raw lately, and really just can't get to it. But I will. Soon. I think. I hope?