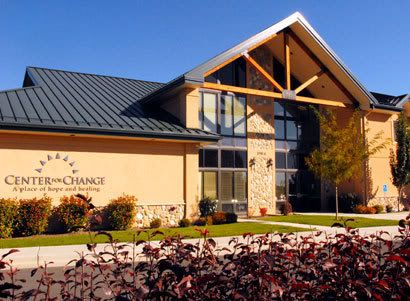 The interim between Open Group and morning snack is usually pretty laid back. A few girls will try to sleep or read a therapeutic book, which is usually so dreadfully boring, one can't get through it.
Feel the Fear and Do It Anyway
. Great book, (
I guess
) but the title says it all. Why read one-hundred-odd pages of "
Even if you think you'll be fat if you recover, who cares? Feel the fear and do it anyway
!" or "
You might have been horribly traumatized as a child, and therefore; need your eating disorder to cope. But who cares? Feel the fear and do it anyway!"
Or "
Why did the chicken cross the road? Who cares? Feel the fear and do it anyway!"

And then there were a couple girls who could complete a 1,000 piece puzzle in approximately 7.983 minutes. Because I cannot complete a four piece puzzle in 7.983 minutes, I usually steered clear. A few of us would sit in a circle and chat a bit, and of course, without fail, the topic would always go to our bodies and how much we were or were not eating. The staff at CFC naturally tried to discourage that kind of tête-à-tête, because discussing numbers (
i.e. what we weigh currently, or what we used to weigh, or what our lowest weight ever was, or how many calories we did or did not used to eat, etc
) could be triggering and could ignite competition in us to see who used to be the "
Best Anorexic
" or the "
Best Over-Exerciser
" or the "
Best Purger
," etc. I was naturally the "
Best at Going Back to Treatment Several Times
," but I don't like to brag, so we'll move on.
A conversation could go something like this:
Bulimic Girl Who Is Also a Binge Drinker:
Oh, man. I could realllllllly go for a drink right now. You know, I used to put vodka in a water bottle and take it with me to school. It was awesome, man! I was wasted by the end of 1st period, and no one ever even knew!"
Me:
That is the coolest thing I have ever heard. You must tell me more.
Bulimic Girl Who Is Also a Binge Drinker:
Well, this one time – I got so smashed, and it was awesome! I almost cut off my finger and laughed the whole time. I also may or may not have lost my virginity that same night, but whateva.
Me:
(Grossly enthralled) Woah! So –
Tech Who Had Slyly Been Listening to the Entire Conversation:
You can't talk about stuff like that, girls! Let's steer the conversation to rainbows and butterflies and cakes. Wait. Not cake. No food talk allowed. But, hey. How 'bout those rainbows, eh?
Or maybe it would be rather along the lines of this:
Girl Who Has a Massive Amount of Weight to Gain
: (
In a whisper
) Brie, I know we're not supposed to talk about this, but am I like, sooooo fat? I feel huge!
Me:
No, NO. Of course not. You're, like, severely underweight. You actually look like a twelve year old boy who has cancer and may or may not die at any moment.
Girl Who Has a Massive Amount of Weight to Gain
: Really?! You're not just saying that? That is the most marvelous compliment anyone has ever given me! Oh Brie, thank you so much! You just made my day! It's just that (
lowers voice
) I used to weigh about the same as my pet frog, and now, it's just so hard. I hate gaining weight.
Me:
(
Sympathetically
) Well, don't worry. You may not weight what Kermit weighs, but I'd say you're about Pug size. Yeah, you're quite Pug-ish. And that's still teeny! Pugs are very small dogs, you know!
And after those extremely deep and uplifting conversations, it's time for snack. Before we head for the dining room, though, there is yet another round of every girl and their grandomother peeing roughly three gallons of water and/or Boost. I'll, of course, always end up standing in line behind the one girl who has to take a massive dump, so I get the extreme pleasure of walking into a reeking bathroom with skid marks in the toilet. After I do my biz-nass, the tech comes in to flush the toilet. She doesn't say anything, but I know she's grateful she only had to look at urine and not a huge, you know, bowel movement.
And it's snack time. Because it takes the average human stomach about four days to digest what I have eaten only at breakfast, I do not in the slightest feel hungry. I drag my feet to the dining room and pray it's not some fatty dessert concoction. "
Please, no. My stomach can't handle it. C'mon, Cooks! Do me a solid,"
I'm thinking, "
Please, pleaaaaase have it be apples or veggies or something."

Damn.
It's a fatty dessert concoction.
And I have quite the heap of it on my plate. Weight gain is gravely offensive to me.
I sigh and unwillingly take my mountain of evil fat and calories with my chocolate milk and find a seat. Of course, every girl's eyes are roving the others' plates, gauging if they have more or less than the others. My and my fellow weight-gainers sigh and pick up our forks. We only have fifteen minutes to consume this monster, and we need every minute.
Six minutes later
I'm starting to feel sick, and I'm only 1/3 of the way through my mound of fat and calories.
Two minutes later
I start burping and praying that nothing will come up, please, oh please…keep it down…
Three minutes later

I catch the eye of Whit, who was in CFC many-a-time with me. C'mon, Brie, her eyes tell me, you can do it, and I watch her eat her giant pile of dessert as well, and am reminded that if she can do it, I certainly can, too.
Okay.
Four minutes left. Half of this fiend is left to consume. I begin taking massive mouthfuls, gagging and swallowing, gagging and swallowing. I wash it down with chocolate milk. I scrape my plate; because anything left on it – even a crumb – means getting Boosted. I'm finished.

TIME'S UP, they call.

I did it.

And then I cry, and simultaneously gain roughly two pounds.