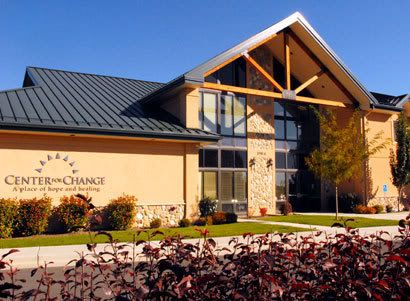 Well, the polls are closed, and apparently the majority wants to hear about family therapy, and I'm surprised, but I can't quite put my finger on why. I suppose I was just a little agog that people don't want to hear about all the fart-tacular stories that are inspired from a yoga class full of girls drinking a ridiculous amount of Boost. But I'm sure at some point on another I'll get around to chronicling every choice on that poll, for they all merit posts of their own.
So. Family therapy. I'm going to broaden the spectrum here, just a bit, and focus not just on family therapy, but something at CFC called
Family Week
. Family Week was a special form of torture that came once a month – I believe every third week of the month, if I remember correctly. It was a time when parents from all over the US (or other countries, as well) flew in to be with their daughters and learn how to eating disorder-proof their home, how to openly communicate with each other, and to of course have individual family sessions where they were told as nicely as possible that their daughters disease was entirely their fault. Just kidding.
The end of the week culminated in a spectacularly humiliating activity called the Ropes Course. And, well, there's nothing quite like watching your aging parents be secured in a harness and get thrown out of a catapult and try to do as many flips in the air as possible. Seeing my dad in a harness and a helmet two sizes too small was bad enough. But the flips? The awkwardness? It was too much, I tell you.
There were many activities an eating disordered patient would do with her parents. Groups vacillated from art therapy, to open group, nutrition class, to even yoga. Some prisoners were thrilled their parents were coming to visit, looked thoroughly forward to the time when they could be with their parents and even siblings. You could always pinpoint the ones more than a little overwhelmed at having the parental units visiting by the hysterical screaming fights that could be heard in a nearby room. It was sad. Scintillating, but sad.
Family Week, honestly, wasn't something I was completely looking forward to. My familia only lived forty minutes away, so it's not like I was exactly hankering to see them – they lived near enough that I saw them on the weekends when I was allowed on pass, plus, I felt some sort of indefinable doom at them coming. I felt like the world was going to end, or something.
One of the first groups of the week was art therapy. I still remembered sitting on the hard plastic chairs with my parents, watching all the other parents shift nervously in their seats, wondering if they were really, in fact, going to have to express themselves with paint like the brochure promised. The fear was palpable, I could smell it. Parents' eyes roved the room, almost maniacally, looking for the nearest exit. My parents' unease mirrored that of the other unfortunate souls who had a daughter with an eating disorder.
But not us. The prisoners, I mean. I had gotten over my fear of art therapy long ago. I didn't necessarily love it, (the tribal incantation music still made me feel like I was participating in some sort of ritualistic sacrifice) but I was used to the idea of painting my fear and joy and passions on paper. Or whatever.
But my dad. Oh, my dad. I mean, my dad grew up on a farm, guys.
A farm
. He got up at 4:00 every morning and milked cows and fed the horses and stuff. He had to walk a four mile roundtrip to school everyday in the snow. Uphill. Both ways. He like grew up in the depression or something.
My dad didn't have time to be depressed growing up. He only had time for cow milkage and homework and slaughtering pigs or whatever for dinner. The idea of art (especially art therapy) was as foreign and inconceivable as pigs flying.
So there's my pop. Sitting there, blinking rapidly, wondering how he's supposed to depict his daughter pre-eating disordered with a lump of clay. I think he ended up making me look like a saggy, mousy snowman with no limbs. Or eyes. Or mouth. Or face at all, really. But you know, I appreciated the effort. I think he would've preferred to use the clay to make, like, some sort of farm tool out of it. Mom's was little better, if I remember, but I don't think she looked so pained doing it. I think she thought after she made a clay-me I would recover. Suck, I missed the memo.
Individual family therapy
succcccccked
. Seriously. I have as of yet to find anyone who enjoys being confined in a small space with one's parents for an hour, sometimes more. If I recall, I was desperately looking toward the door, or maybe at the fire alarm, hoping it would go off. My mom couldn't stop crying. My dad kept demanding my therapist to tell him just
when exactly was Brie going to recover? She's been here two months and she's not getting any better!
I made a mental note to get on the whole recovery thing, then promptly dissociated. For real.
Family also had a session with dieticians that the patients were not allowed to attend. It was on
intuitive eating
, and more or less consisted of a dietician trying to convince parents that, in fact, intuitive eating wasn't some ridiculous myth, but actually a
real thing
. My dad couldn't grasp the concept that you could eat whatever you want whenever you want.
You mean, I don't have to finish everything on my plate
, he asks? Again, the farm boy side of him was coming out. He was raised to believe that you didn't waste the chicken you slaughtered that afternoon. You ate it – and every bite. Wasting food was not a luxury my dad and his family could afford back in the day. So naturally, it was a tough thing to ingest (no pun intended). Listen to your hunger and fullness? Diet no more? No reduced fat foods? Allow your own body to find its natural set point?
What--??

But really, family week was really beneficial. It allowed my parents and family to voice all their questions and concerns concerning me and my eating disorder. We came, we conquered, we bonded. It was fantastic.
On Saturday afternoon, the last activity of the week was the Ropes Course, like I already mentioned. It was conducted outside, in a sort of boot camp-esque setting, and guides take us through all the activities that are intended to allow us to break free of our fears and embrace our
fat
body and life, etc. I'll still never forget my mom, who definitely wasn't getting any younger, struggle to climb a gargantuan tree that was two stories off the ground. Seeing your parents in a harness is kind of like watching a dog walk on his hind legs. It's unnatural and uncomfortable. But you know what? They did it for me. Because they loved me, and this was their way of showing me that they wanted to be a part of my life and my recovery.
And I think that's pretty damn cool.